I never thought myself much of a blonde girl and despite some experimentation with the colour in my late teens, have decided that at heart I'm firmly a brunette.

But I can't deny that I didn't feel a small pang when I received the invite to Dafna's 20th Barbie & Ken themed birthday party in Sumosan. And although I am aware that Barbie is a modern woman and can be of any race, ethnicity, cultural subgroup or profession - part of me momentarily sulked over my auburn mane of hair.

Nearly every woman there wore some variation of pink or red and of course the obligatory high heels were also ubiquitous. We ate, danced, played charades and sang Karaoke. The food was exquisite but the company was even better.

Dafna even went to the trouble of getting everyone a personalised Barbie T-shirt with something about them on that back; Diana's said "Hot Brunette", Carina's read "Child Unfriendly", Zoe's read "English" and mine read "Luxury Marionette" hehe.

So thank you to Dafna and Polina for their incredible organisation and for making every part of yesterday perfect.
Big Hair
You can guess there was more than one camera
Oo La La
Zoe giving it her all in Charades
Olimpia taking instruction from Mr Tease
Bows and Sequins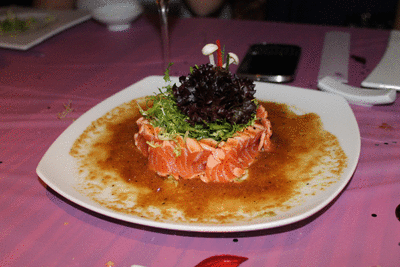 Sumosan Salmon Sashimi Salad thing- now you see it, now you don't
The Birthday girl, Diana and me.